The concept of converting the garage space into living space is very tempting for many reasons. Some may look toward this as a means to gain more usable living area, possibly to accommodate a growing family or changes in how they need to use their space. Others may be enticed to get the quick value this can bring to the property upon sale, when done correctly. In this article, we will look toward the concept of Garage Conversion and evaluate the pros/cons toward its implementation.
PRO #1 Added Square Footage
The entire point of the garage enclosure is to create more usable living space. A garage conversion does that, with the reduce costs and also without sacrifice of yard space (which would be required to achieve similar with a building addition). It also avoids the structural component construction, which requires specialized skills and equipment.
Many homes (older and newer alike) have an approximately 20 by 20 foot, or 400 square foot, attached garage. These areas are typically already have floor elements, are under a roof structure, and already contain wall elements on 3 of the 4 sides. As such, living space can be added to the primary residence with very low construction costs. Constructions of these already in-place structural components (floors, walls, roof) often are outside the reach of a typical DIY homeowner, while the finishing needed to convert a garage can be within their grasp. Often times, some resemblance of electrical service will also be in-place.
Property appraisers and automated property valuation sites often apply a per square foot value to homes, where lesser finished and ancillary areas are given a reduced factor. According to the Hillsborough County Property Appraiser, in our primary service market, the enclosed space is considered "base semi-finished" which comes with an 80% factor when compared to conventional living space square footage rate. In order to achieve this rating, though, it must have air-conditioning and has to be self-contained and enclosed. It must either have its own bathroom or be connected to an area with a bathroom by a hallway (you cannot enter another space to get to a bathroom). If you add a closet, you may be able to consider the space a full bedroom as well (consult your real estate or property appraiser professional for additional detail or clarification).
CON #1 Loss of on-site storage
As a homeowner, I don't know what I would do without a space to keep all of my tools and lawn care equipment. It is already a battle to maintain enough room for a car to park in the garage, much less the thought of having no garage space at all. Not all household items are suitable for storage inside the living space. Assuming you had lawn care equipment, storing those items (or gas) inside absolutely cannot happen. Bicycles and sporting goods for the kids would never make it without a proper garage space to keep them contained. If you cannot find a place for the items currently in your garage, a conversion may not be right for you, or you may want to consider adding the wall inset from the overhead door (to leave a portion of usable storage/garage space). If so, make certain your contractor creates an air-barrier between the condition and unconditioned spaces and properly insulates. This approach helps to not break up the exterior aesthetic as well. Driving up to a window or a blank wall from a driveway always seems a bit odd.
CON #2 Awkward In-Place Construction
Rarely do garage enclosures gracefully "fit" with the flow of a building, leaving an awkward living space that just seems not quite right. You also need to make sure you consider Egress requirements of your local municipality, as you will likely have to add (or possibly resize) windows to make it happen through permitting. Also, the floor slabs of garages are customarily sloped (intentionally) for drainage. This sloping may make it difficult to achieve proper fit and finish of any cabinetry or finish millwork, and maybe perceptible when you walk the floor (making occupants feel like the house is sinking). That slab likely never had a vapor barrier as well, since it was constructed with an intention of being used for unconditioned space. As such, the room may perpetually be damp and muggy with low level condensation accumulation at the baseboards. If humidity levels within the added space are not fully controlled, a mold problem may develop and it may affect the health of the house occupants. They also tend to be constructed at the elevation near that of the exterior grade, while conventional living space by most codes must be constructed above exterior grade. This tends to scream to people seeing the house that someone was in there messing around with the building, making changes. The higher grade, required for the originally constructed residence, ensures that water intrusion will not occur during elevated rain events. The low-lying nature of the garage slab leaves it susceptible to the intrusion of surface water if it is not properly directed away from the residence and rigidly controlled. The walls for garages are typically not insulated unless the wall is shared with adjacent conditioned spaces. As such, confirmation on the necessity of insulation should be done.
CON #3 Most see this as a DIY project
Due to the primary structural components being in place, most see this project as a DIY-capable project. That said, adequately bringing all of the necessary components up to code are typically out of reach for most DIY hobbyists. So assessing if permits were pulled, or required, is a vital initial step toward your assessment of a residence that contains an enclosed garage. You can check Hillsborough County HERE and Pinellas County requirements HERE. Both require permits for many parts of the required work to convert a garage. The permitting process will ensure that the Building Codes and any local ordinances for living space are upheld. They may require a minimum number of windows, number of exits/entrances, ceiling height, and number of electrical outlets to name a few. Not all DIY'ers may have insight to these requirements. If the project was not permitted, the enclosure may be a negative factor toward the property's valuation and may require significant investment to get brought up to code (or be required to be reinstated to its original form, a garage). A call to your local permitting authority is usually all it takes to get a crash course on the requirements in your area.
CON #4 Costs to Do Conversions Correctly
In the table below, you can see that there may be times where a typical DIY'er may choose to self-perform or skip tasks to save money to the bottom line.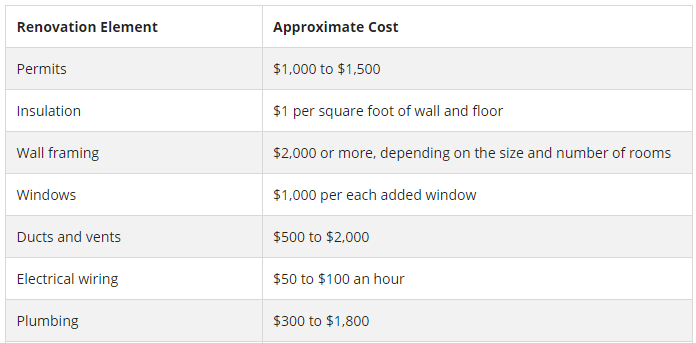 A project requiring a bathroom will exceed these figures by around $5,000, and an HVAC equipment requirement (i.e. the in-place equipment or a wall unit will not suffice) will bring in another few thousand. As you can see, this is a project that should be tactfully thought out and planned in advance.
Most garage conversions tie into the existing houses' HVAC ductwork to condition the space. If the space is 400 square feet, an extra 1-ton (approximately) of cooling capacity is required. A space that had an extra 1-ton of cooling prior likely had a whole separate set of issues (you can read our prior blog post, Air Conditioning Sizing: Bigger isn't Always Better HERE). Oftentimes, the reduction of air to other previous areas or the air supply to the new space suffers (or both). If the prior system was installed and designed for the original house, common sense would tell you to leave that system servicing the original house. Changing the ductwork arrangement can cause an imbalance in the system, and HVAC professionals should be involved to make any decisions there. A self-contained HVAC system is best for these newly enclosed spaces, but a solution should be selected that provides adequate space ventilation and air movement (which wall units may not provide). Again, consult your HVAC professional. Failure to properly move and condition the air may lead to an indoor humidity bloom, particularly if ground vapor from the slab was not rectified.
CON #6 Inadequate Insulation
Most garage ceilings are intentionally not insulated, due to them not being conditioned spaces. As mentioned, the walls common to the original living spaces are the only ones typically insulated. If your enclosure has drywall installed, a building official may require the removal of the drywall to ensure proper insulation is present. In the interim, your home inspector may be able to help you identify if insulation is present with thermal imaging and/or looking through gapping around switch plates.
So do your research and make sure a garage enclosure is the best decision for you. For that purchase, I urge you to consider having the permit history researched to see if the enclosure was done legally. In either event, ensure that the garage conversion is accounted for in your property appraiser records and in your insurance coverages. Changes to your living space square footage without these adjustments may have consequences.
As always, I welcome your feedback or questions below. Did you convert? Do you love the space? Was it a functional eyesore? Tell me below!
Read more about The Best Home Extensions Revealed, where Red Flag Home Inspection discusses why Garage Enclosures are supreme in terms of Bang for the Buck in Material Market's Expert Round-up.