Tampa Home Inspection Cost Review 2022
I am confident that another expense is the last thing you want as you narrow into closing on your dream home.  A home inspection, however, is a critical step in the process of purchasing a new home.  This contingency to the contract allows you to appoint an advisor to inspect the property on your behalf.  It takes very little effort to research the horror stories of those who decided to forego this opportunity and paid dearly, or the glowing reviews from former clients that had the day saved by a keen-eyed inspector.  Your chosen inspector is there to guide you through this potentially life-changing event, answer any questions you may have, and ensure you are informed of the good, the bad, and the ugly of your chosen home.  This allows you to make an educated and well-informed decision on the value you are getting for the next 30 (maybe 15) years on your hard-earned money.  There are many talented Home Inspectors in the Tampa Bay Area, and today we are conducting a review of the average pricing toward their collective services (versus Red Flag Home Inspection), and why that should not be highly weighed in your decision making processes.
It came to me as no surprise that, according to the American Society of Home Inspectors (ASHI), almost 84% of all domestic customers will hire an inspector as a part of their home purchase process. You being among them likely landed you here, to research how much a Home Inspection Costs. Home inspection service fees can range broadly, based on real estate traffic and local competition. According to the US Department of Housing and Urban Development, the typical range for home inspections between $300 and $500. These numbers were echoed in numerous other resources reviewed in preparation for compiling this article. Wisely, however, HUD states that "Cost does not necessarily reflect quality". Realtor.com adds that "the cost of a home inspection is a drop in the bucket compared with the financial agony these inspections can save you down the road." Home Inspection Insider more simplistically states that:
The U.S. National average home inspection cost on a 1500 square foot single-family home is $400 (concrete slab) and $450 (crawl space or basement). You can expect to pay about $55 per 500 square feet over a 1500sf base price for larger homes. Home inspectors often price their services based on square footage and foundation type (see table below). (Source: Home Inspection Insider)
Square Footage (S.F.)

Basement/
Crawl Space

Concrete Slab

0-1500 SF

$450

$400

1501-2000 S.F.

$497

$447

2001-2500 SF

$542

$492

2501-3000 SF

$587

$537
This study, done by polling 100 Certified Home Inspectors throughout the United States, should be viewed as a higher than average representation of the Florida market (which tends to experience pricing lower than the northern states).  This pricing criteria, however, does not include additional services like radon, mold testing, pool/spa, termite inspections, etc.
Now you are probably weighing how much you want that $300 to $500 versus the knowledge of the condition of the home and it's components.  For me, it is a peace of mind purchase.  Despite having an inspection background, I hire independent home inspectors on every home I purchase (I also self-inspected every time, as you can imagine).  More than $300 to $500 worth of damaged components are likely to be found, and armed with the knowledge of the failed or defective components you may be able to insist certain repairs be carried out, renegotiate the purchase price to compensate for repairs needed, or walk away from the transaction without loss of your earnest money deposit.  It really doesn't take long for a single component failure to exceed the consultation fee that may have kept it from ever being an issue.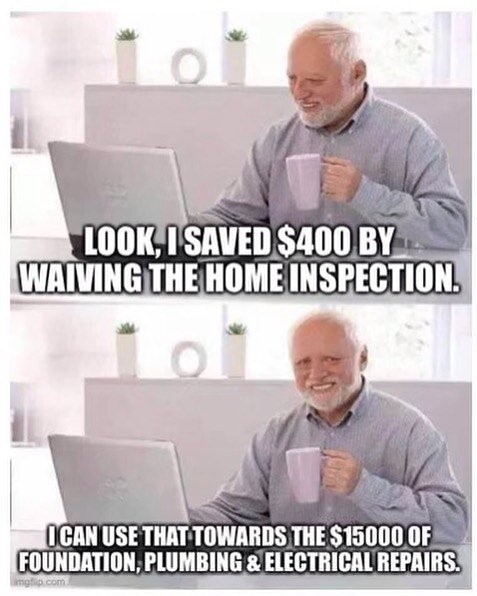 If you feel that you are financially prepared to cover the worst-case scenarios that may pop up after buying a house (Congratulations!), bear in mind that the average replacement cost for a few common household items: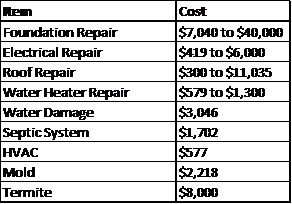 These are just some of the larger components, among the 1,000 plus items checked that may be waiting to ruin your future days.
So where does Red Flag Home Inspection, LLC fit into this?  Well, we have developed our pricing tool with these various data points in mind.  Local data was compiled from competitors' websites, as we had no intention of being the most expensive or cheapest.  Our target is to price our services "average" while keeping our service levels exceptional.  See the graph below that gives a side by side comparison of our service fees against the backdrop of our local competition: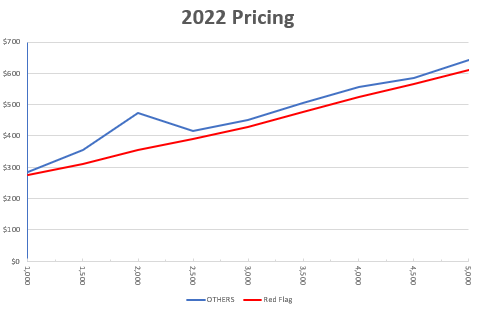 As you can see, any single incident of a failed and unforeseen failure from not having the items professionally inspected are likely to exceed mine and the average local service fees.  Let's face it, sellers may be inclined to try and "put their best foot forward" when listing their house for maximum return.  This undoubtedly includes fresh paint that may obscure evidence of past issues to untrained eyes, or concealment of previously exposed flaws.  "A home does not have a 'check engine' light. Things may be wrong that the homeowner or purchaser are honestly unaware of," says Frank Lesh, ambassador for the American Society of Home Inspectors.  If you are confident that you can safely navigate this transaction by waiving the inspection or self-performing one, keep in mind that Tom Hanks removed his own tooth in the movie Cast Away but that's not stopping me from calling up the Dentist when I have a tooth issue.  Just because you can doesn't always mean you should.
To ensure we are comparing apples to apples, every inspection Red Flag Home Inspection performs meets or exceeds the InterNACHI Standards of Practice (like many other inspectors).  Other inspectors, however, charge an add-on fee for Thermal Imaging.  To see why I will never do that, please read THIS article.  The short version is that the technology is too vital to completing a comprehensive inspection.  I cannot run the risk of a client not paying the add-on fee, and it leaving my inspection process without it.  We also conduct a pressure test of the water lines, to verify adequacy of the supply in to your new home when possible and monitor the meter for consumption to ease concerns over unseen leaks.  We conduct Microwave Leakage tests of your built-in microwaves, to ensure the radiation/energy isn't escaping the cabinet.  We also capture temperature/humidity data inside and out to ensure the indoor environment is properly conditioned and that the HVAC equipment is performing adequately.  You also will not pay for us to evaluate the sprinkler system, checking for gas leaks or answer your questions on a follow-up call.  These are just a few examples of add-ons that others may charge to perform, or not have the capability/knowledge to carry out, which come complimentary with your Red Flag inspection.
In summary, this house could prove to be your forever home. Don't let your perfect dream scenario fade into a nightmare of a money pit over a small advisory service fee. Hire a professional to keep you advised of the condition of the various components of your targeted home; make an informed and educated decision. Click the link below to book your Red Flag inspection TODAY!